It's certainly not a pickup, or an SUV, or a crossover. Hyundai dubs the all-new Santa Cruz a Sport Adventure Vehicle, making it the first of its kind across the industry.
Hyundai created an all-new category that caters to the multi-dimensional driver. A driver who might live in the big city, but still enjoys getting rough and rowdy on the weekend. And you can't get rough and rowdy in any ol' crossover. The power and capability just aren't there.
On the other side of the coin, you may not want or need a full-size truck or gas-guzzling off-roader that drains the wallet on your commute. Not to mention how difficult street parking becomes when you're trying to maneuver a behemoth between two compact sedans with half the city watching.
The Solution?
Well, the all-new Hyundai Santa Cruz of course! This SAV is the perfect mix of performance and practicality.
Its standard 2.5-liter four-cylinder engine delivers a 1,748 max payload and up to 3,500 pounds of max towing. Perfect for city dwellers that need to bring a pair of bicycles, snowboards, or even a set of dirt bikes along for weekend outings. For those who need a smidge more umph for their more powerful toys, there's an optional 2.5-liter four-cylinder turbo engine that unlocks a 5,000-pound max towing capacity.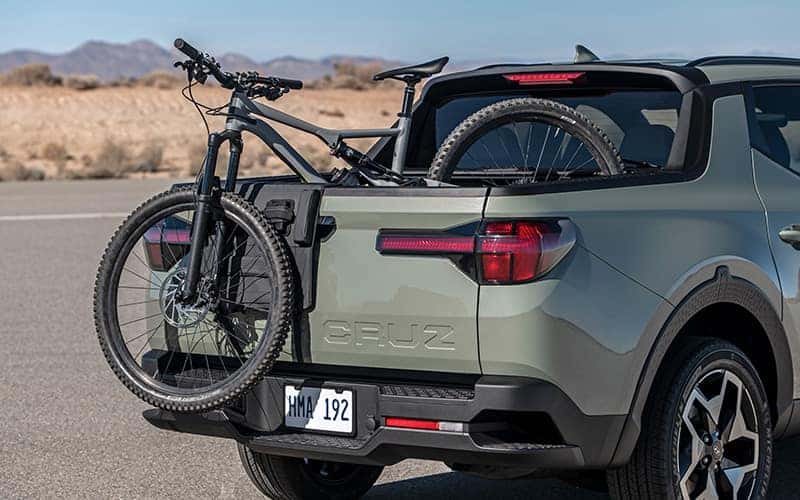 Both engine offerings feature HTRAC all-wheel drive systems to help tackle tough terrain and inclement weather. Similarly, both engines have an EPA-estimated 27 mpg highway.
Metro Maneuvering
The all-new Sanda Cruz's size makes shifting through downtown streets simple and fun. Sitting at 195.7 inches long, it comes in even smaller than the compact Ford Maverick [link?]. Its refined chassis provides impressive agility and cornering for tight city streets.
Its overall size includes its 4.3-foot composite-molded bed that comes factory ready with a metal, roll-up tonneau cover. The Santa Cruz's compact bed can withstand a 600-pound payload, 200 of which can be handled by the lockable tonneau cover.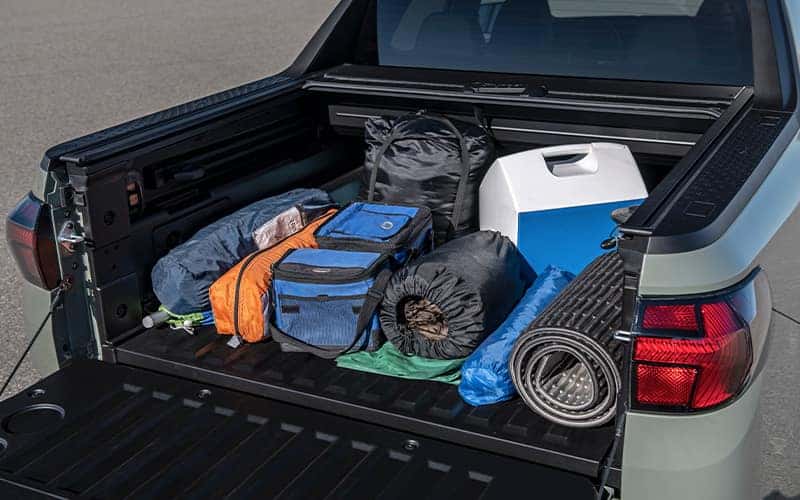 That makes the Santa Cruz the perfect vehicle for those who might make a pit stop downtown with their gear in the back. While we're on the topic of downtown stops, for nights that aren't spent in the mountains, the Santa Cruz's four-door body offers just enough room in the back seat to go out with friends.
In fact, its entire interior is fit for a night on the town. The Santa Cruz features upscale tech options like fully-digital 10-inch gauges, dual edgeless 10.25-inch touchscreens in the center stack that control climate, and an 8-speaker Bose® sound system with wireless Apple CarPlay® or Android Auto™ connectivity.
Even though the Santa Cruz is well equipped for rural outings, it's also a vehicle you'll want for your downtown adventures. Its tech and sleek exterior design are just something you'll want to park on the main drag for all to see.
It's a Crossover, It's a Truck, It's a Santa Cruz
Find your first-ever Sport Adventure Vehicle with us at Garber Hyundai. The all-new Hyundai Santa Cruz is available for pre-order now and will hit lots soon. When you're ready for a test drive, stop by to see us at any of our dealership locations to experience a vehicle the industry has never seen before.
Stay up-to-date on the Hyundai Santa Cruz's arrival by liking us on Facebook and following our Instagram!
Sources: