Hyundai took its best-selling global model, the Tucson, and made a statement that'll make you question everything you knew about compact SUVs.
How?
Well just look at it for a moment.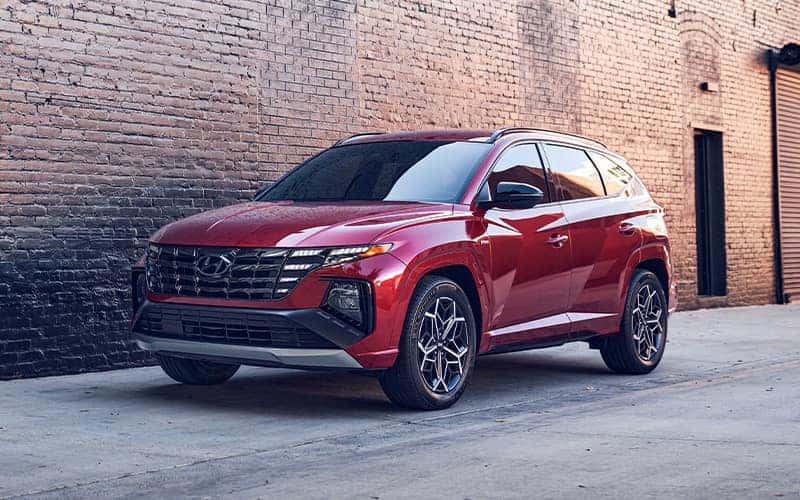 Now whether you scrolled down or scrolled up, the redesigned Tucson's lines command your attention. Its strong profile is met with playful daytime running lights that hide in the grille and are only visible when they're ready to be seen.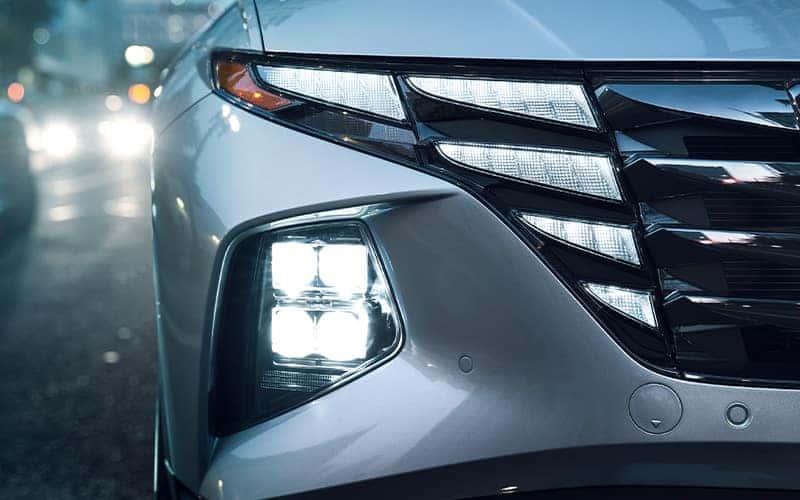 And when you're ready to be seen behind the 2022 Hyundai Tucson's wheel, you'll have plenty of trims to choose from. 15 to be exact. The Tuscon comes standard with a front-wheel drive and a 2.5-liter engine that produces 187 horsepower and 178 pound-feet of torque. That makes it good for a 2,000-pound max towing capacity and 33 mpg highway.
Hold out just a little while longer and you can opt for a 1.6-liter turbocharged engine that teams up with a 44.2 kW electric motor and a 1.49 kWh lithium-ion battery pack to churn out 226 horsepower and 258 pound-feet of torque. This hybrid configuration will earn you 500 miles of range, about 38 mpg combined.
All-wheel drive options are available with the Tucson's traditional engine configurations and are standard with the hybrid and plug-in drivetrains.
What You'll Get No Matter What
You've already seen the powertrain spread. The interior offers an equally robust list of tech and comfort options. But before we get to all the choices you have available with the redesigned Tucson, let's touch on some standard features.
The 2022 Tucson adds a whopping 3.1 inches of rear legroom to the second row, giving adult passengers the comfort they deserve. Taking things up a notch, the second row has an impressive reclining function. Each trim level offers 38.7 cubic feet of cargo space with a cargo release switch to make lowering the second row simple.
The base trim comes with an 8-inch touchscreen display that syncs with both Apple and Android devices. And you don't have to worry about plugging in an aux cord because the Tucson comes standard with wireless smartphone connection. Not too shabby at all.
But The Upgrades Are Worth It
Paying the touch extra to get the complete 2022 Tucson experience is well worth it. Grab the mid or top tier trim level and unlock bigger screens and plenty of convenience features.
The 8-inch touchscreen jumps to a 10.25 and gets built-in navigation with an equally big digital instrument cluster to match. Factory speakers are replaced with a premium Bose® audio system and a wireless charging pad is added to ensure your smartphone is ready for the long haul.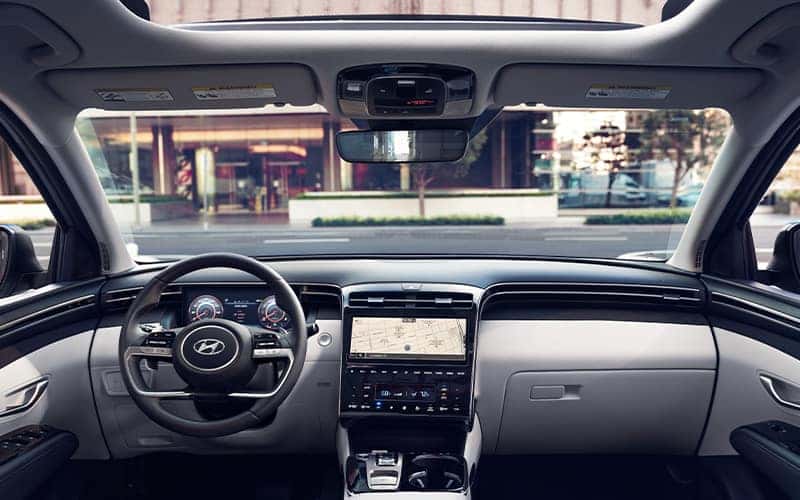 On the topic of smartphones, yours unlocks a world of innovation and connectivity with a complimentary three years of Hyundai's BlueLink app. Go beyond remote access to turn on your climate-controlled seats or share your key with family and friends.
Convenient, right? Well it doesn't stop there. The hands-free liftgate opens up WITHOUT the kick of your foot. Simply stand behind the liftgate with your keyfob or smart key and it opens up automatically.
This Tucson is smart. So smart, it can even park itself. Pull in and out of parking spaces with the press of a button on the keyfob. You don't even need to be in it!
The all-new Tucson is there for you on the road too with an enhanced blind-spot monitor. This tech not only warns you when there is a vehicle in your blind spot, but shows a real-time camera feed of your blind spot in the digital cluster.
Starting at $24,950, the Tucson will be in the showroom soon. Call us with any questions reserve your all-new Hyundai Tucson today, so you can turn heads in your neighborhood.
Follow us on Facebook and Instagram to get updates on the 2022 Tucson's arrival.